Posted on August 25th, 2015 by Bryanna Davis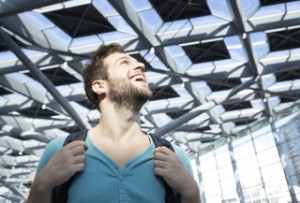 Если вы иностранный студент,то вы уже знаете ,что быть им не просто. Вы должны предоставить множество бумаг,ходить на интервью,и постоянно что-то доказывать-начиная от баллов за тесты и заканчивая денежными средствами. Из-за всего этого очень легко забыть,что конечная цель не обучение за рубежом,а опыт жизни за границей. Именно поэтому иностранные студенты должны найти время,чтобы выяснить,чего им ожидать во время обучения в США. Чтобы помочь иностранным студентами с советами о том,как привыкнуть к новой жизни,мы собрались на прошлой неделе чтобы обсудить именно эту тему. If you missed this this hangout you can still get these tips by either watching the video, or you can continue reading for a recap on the five tips we addressed during our hangout.
Первое,что мы обсудили это стиль обучения,он может отличаться от того,к чему вы привыкли в своей стране. В начале семестра студенты обычно получают список того,чего им стоит ожидать от каждого учебного курса,на протяжении всего семестра.В этом списке будут указаны предметы,тесты и список для чтения. Хотя это не полный список того,что требуется от вас (иногда могут встретиться неожиданные опросы), это неплохой старт для начала. Большинство (если не все) профессора назначат часы приема. Во время которых студенты могут решить любые проблемы и задать вопросы. Если у вас есть вопросы о выполнении заданий или вы отстали во время перода адаптации,используйте эти часы.
Вторая вещь,к чему вы должны быть готовы-это сосед по комнате. У вас не только скорее всего будет сосед по комнате,но если вы живете в общежитии, вместо того,чтобы делить одну квартиру,вы будете делить одну комнату. Если вы с соседом по комнате станете близкими друзьями,то делить одну комнату будет неплохим вариантом для вас. Но если окажется,что у вас мало общего,тогда вас ждет не совсем то,чего вы хотели.Но есть некоторые советы,как справиться с этим :
1. Привезите небольшой презент с дома,чтобы а=растопить между вами лед и взять неплохой старт.
2. Будьте понимающий и убедитесь,что вы не начинаете ссориться без повода.
3. Уважайте друг друга. Придерживайтесь правила "Относись к другим так,как хочешь,чтобы относились к тебе",это поможет жить без проблем с вашим соседом по комнате.
В-третьих,иностранные студенты часто не знают как реагировать в определенных жизненных ситуациях. Например,как приветствовать друзей,что принести с собой,что надеть и так далее. Небольшие мелочи,которые были для вас естественными в вашей стране,могут стать ловушкой в новой обстановке. Хотя для таких ситуаций "правильного" ответа нет,так как ответ будет зависеть от социальной группы,есть один секрет,который поможет вам лучше понять чего ожидать : наблюдайте за другими.
Четвертое изменение,к которому вы привыкнете со временем,это ваш новый университет. Сначала вы не будете знать где найти тот или иной кабинет,столовые,библиотеки,компьютерные классы,спортивные залы и так далее.Возможно вы заблудитесь пару раз. Лучший способ -это исследовать все в первый день. Скорее всего вы захотите вздремнуть сразу после того как вы прибыли,так что осмотр нового учебного здания это хороший способ не думать о том,как сильно вы устали. Возьмите карту кампуса со столика в главном зале или распечатайте и привезите с дома и начните ваше путешествие по кампусу.
Пятое по списку: у вас будут трудности из-за того,что вы никого не знаете. Быть иностранным студентом очень захватывающе,но к этому также прилагаются большие перемены. Дома у вас есть семья и множество друзей,на которых вы можете рассчитывать,но первое время в США у вас не будет поддержки,которая проходила бы через те же испытания. Хоть это и создает трудности,но это также дает возможность начать с "чистого листа". То,что вы никого не знаете,также означает,что вы можете быть кем захотите. У вас будет желание не заводить друзей пока вы точно не узнаете как справиться с каждой ситуацией и пока ваш английский не будет идеальным,но не давайте этому удерживать вас. Первые несколько недель в новой стране очень важны для нахождения друзей-так что найдите их насколько можно быстро.
If you're not going to be an international student this semester but would like to be one in the future start by finding a college or university!
Leave a Reply